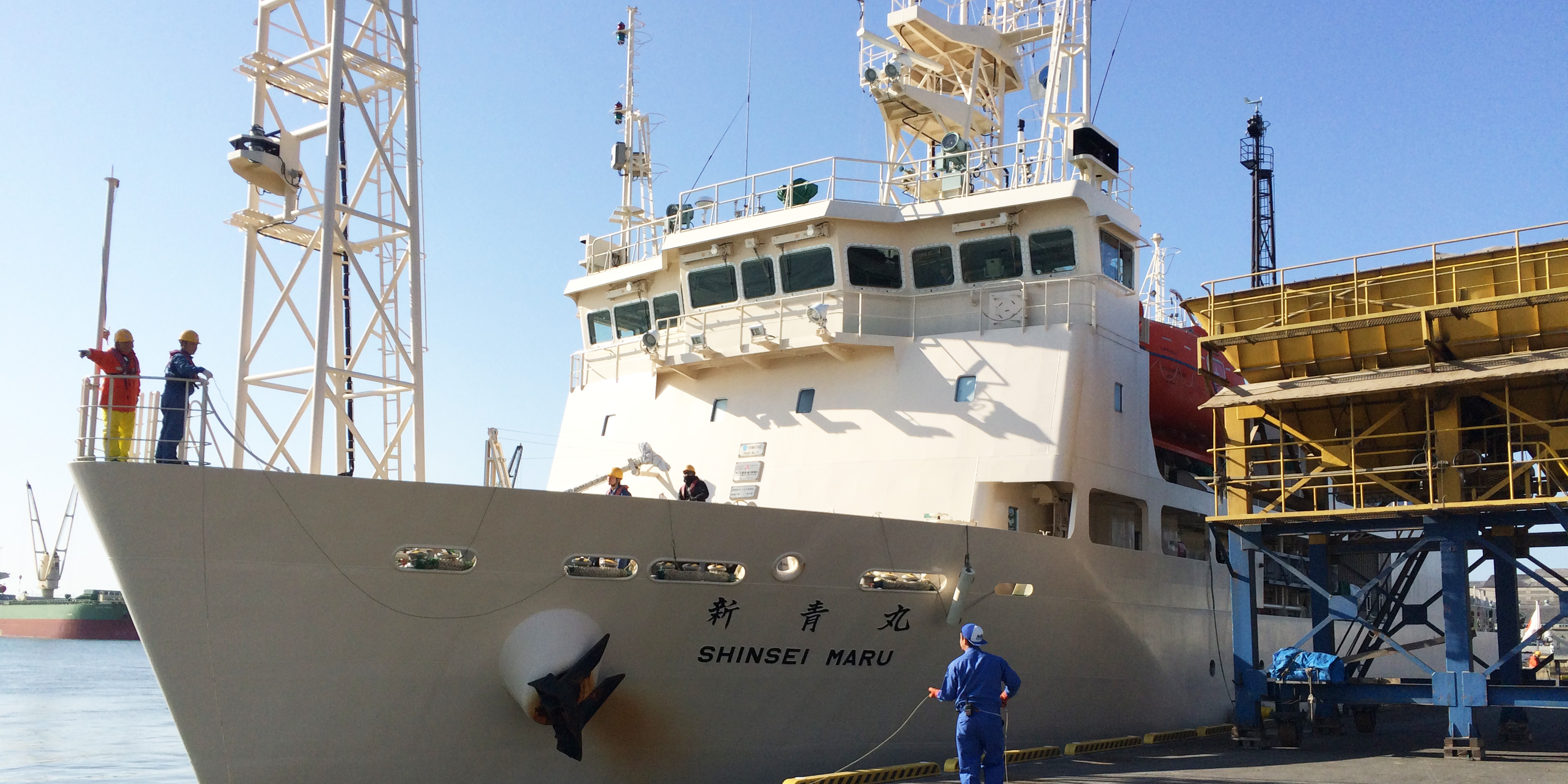 Report on loading and preparation for the research cruise by the Shinsei Maru
By admin In Field survey, REPORT On 2016-11-15
---
The Shinsei Maru will make a voyage for a research from November 10th to 17th, 2016.
The ship will leave port at Ishinomaki, Miyagi prefecture, on the 10th and sail to Onagawa Bay and Ootsuchi Bay in order to conduct a research on the effect of Tsunami on the ecosystem in the Tohoku area.  The ship will returnback to Ishinomaki on the 17th. Professor Nagata will take passage during the cruise.
SHINSEI MARU was built as part of the "Measurements for Reconstruction in Response to the Great East Japan Earthquake" fund of the Japanese government, and also as a research vessel for the "Tohoku Ecosystem-Associated Marine Sciences (TEAMS)" program.
Boarding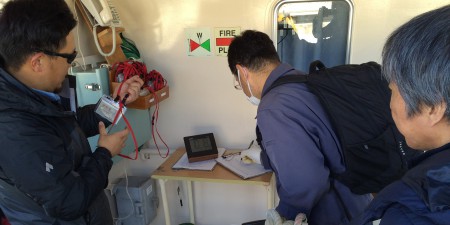 All crews must register themselves and receive name cards to get on the ship. For their safety, they must wear helmets.
Loading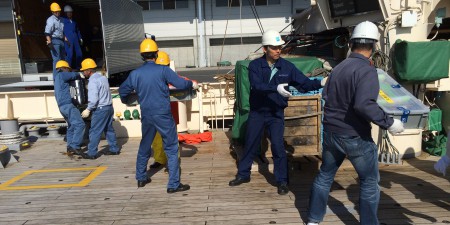 Crews pass items one after another, just like a bucket brigade. The items are first stored in the main laboratory and then distributed to appropriate places throughout the ship depending on their purpose.
Main laboratory (a wet laboratory.)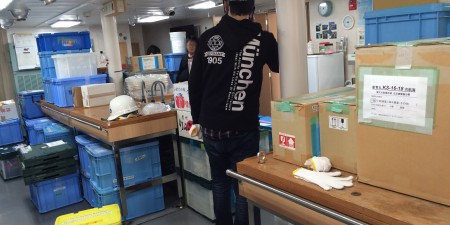 The main laboratory is packed with items even though the cruise is only for one week…
The Shinsei Maru has many kinds of apparatus and functions. One of the most familiar pieces of equipment for our research is this water sampler called a CTD. There are 24 bottles on the CTD and the lids are controlled by a computer on the ship. Researchers can program which depth the sample should be taken for each bottle.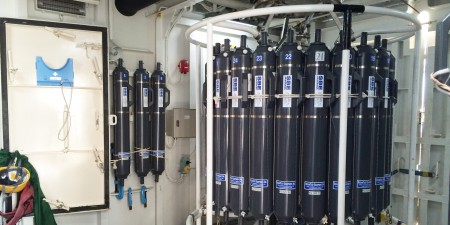 The ship is also equipped with a weather radar, a fish-finder, and other state of the art technology.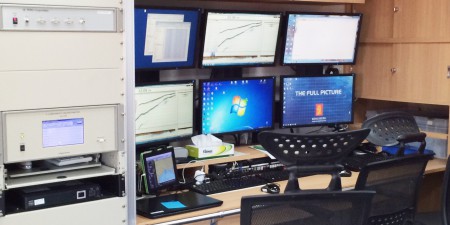 Let's move on to "the life" on the ship. The Shinsei Maru is provided with every function to keep the ship-life comfortable.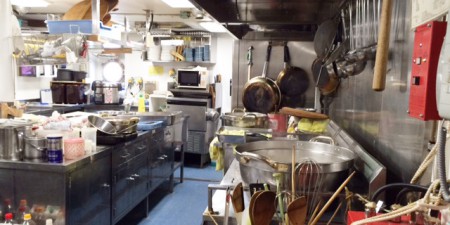 Kitchen・・・Researchers can check the menu through a computer in the room.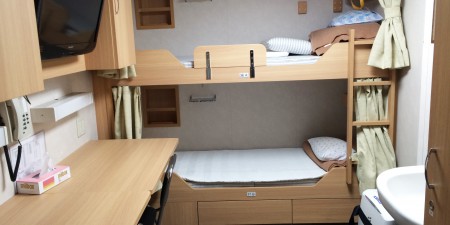 Room・・・A desk and a bed is provided for each passenger. This is the room for two.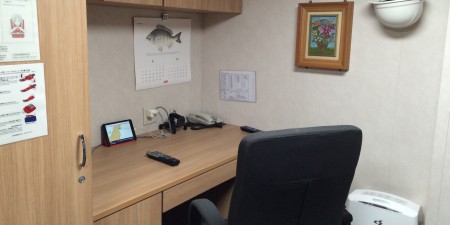 Suite Room for the head researcher・・・This room is for one. A table set for a meeting is placed on the other side.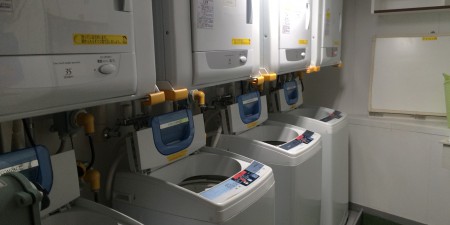 Laundry room・・・There are four washing and dryer machines.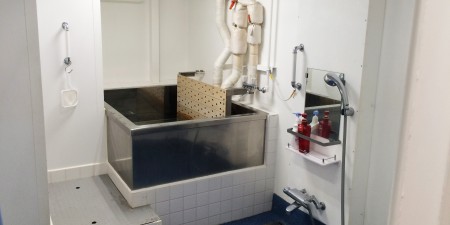 Bathroom・・・It is open 24 hours.
In the past, fresh water was very precious and hard to get on a ship. However, since the Shinsei Maru has a function to make fresh water by distilling sea water, it allows passengers to use fresh water for many purposes freely.
At the end...
In order to conduct research using a research vessel such as the Shinsei Maru, a proposal must be approved by the authorized committee; competition is very keen. Even though the proposal has been approved, weather condition or other unavoidable events may sometimes prevent research. Therefore, only after detailed planning and thorough preparation, and if all other conditions allow it, may researchers conduct their research. I hope this cruise goes well.
---